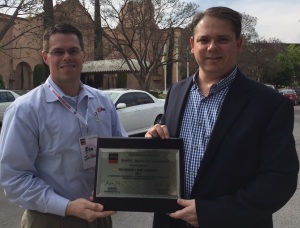 FORT WAYNE, IN. (March 6, 2015)—Rea Magnet Wire Co. was recently awarded Remy's Quality Award for Excellence in 2014. The award is given, "In appreciation and recognition of superior quality parts provided during the past 12 months to Remy Mexico."
Rea Magnet Wire shipped zero defects on all Remy requirements from Rea Magnet Wire facilities in Monterrey, Mexico and Fort Wayne, Indiana.
The award is the second award for quality from an automotive supplier this year. Pictured and accepting the award on behalf of all Rea Magnet Wire employees are Joe Haupert, General Manager of OEM Sales and Favio Peralta Monterrey Plant Quality Manager.