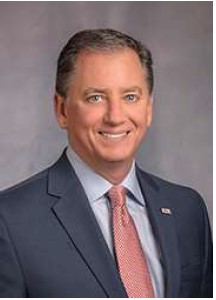 FORT WAYNE, IN. (March 18, 2019)—Jerry Long, President and CEO of Rea Magnet Wire Company, has been elected to the board of directors of Rea, the largest producer of magnet wire in the world with operations in North America and China.
Long joined Rea in July of 2013 as Chief Financial Officer. He came to Rea with more than 15 years of senior leadership experience and over 25 years of finance, accounting and treasury experience, including international experience having lived and worked in two countries in lead roles as Director of Finance in Germany for Dana corporation and CFO of Asia Pacific for Cooper Tire & Rubber Company. Long received his MBA from the University of Memphis and his bachelor's degree in Accounting from the University of Toledo. He is also a Certified Public Accountant.
Rea's board of directors consists of the following members
Chairman – Arthur Miele, Retired Senior Vice President, Phelps Dodge Corporation
Board Members:
James Vann, Shareholder
Ronald Foster, Shareholder
William Wyatt, Shareholder
Larry Bagwell, Retired Chairman, President and CEO, Rea Magnet Wire
Dave Haist, Retired COO, Do It Best Corp
Sherry Connolly, Shareholder Representative
Gary Neal, Retired President and CEO, Hurco Companies
For more than 85 years, Rea has been headquartered in Fort Wayne, Indiana, and has become a global leader in the magnet wire industry with five manufacturing plants in North America, one joint venture plant in the United States, and four joint venture plants in China.