FORT WAYNE, IN. (February 4, 2015)—Jim Vann, Chairman of the Board, Rea Magnet Wire Co. is pleased to announce that our Monterrey, Mexico plant was the 2014 recipient of the Chairman's Safety Excellence – Plant of the Year award.  The plant topped all North American manufacturing facilities in safety scoring metrics which included a wide range of indicators used to evaluate the very best in safety performance.  This recognition program is designed to nurture friendly competition between all Rea Magnet Wire facilities.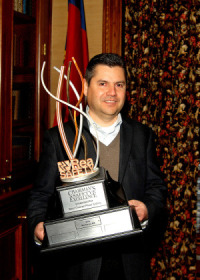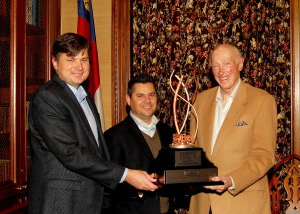 Mr. Vann presented Ricardo Barrera, Monterrey Plant Manager, the custom designed traveling trophy that will be proudly displayed at the Monterrey facility throughout 2015. The Monterrey facility includes over 300 employees who represent the very best in safety culture and collaboration. Their performance was representative of Rea's overall commitment to maintaining world-class devotion to safety standards and performance.
In addition to the Plant of the Year award, the recognition program included a Most Improved award, which recognized the plant that increases their point total the greatest percentage from one year to the next.  The 2014 recipient was Guilford, CT, who moved from 6th to 3rd place and amassed a 45% increase in scoring.  Finally, we are pleased to recognize Guilford, CT and Osceola, AR for reaching the ultimate goal of Zero Recordables for 2014.
Rea Magnet Wire Co. looks forward to continued success in the promotion and implementation of their safety system throughout all locations. Rea Magnet Wire is dedicated to ensuring all employees, visitors, vendors, and contractors return safely home each and every day.