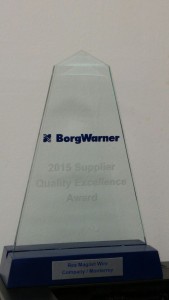 Fort Wayne, IN. (February 29, 2016)—Rea Magnet Wire Co. was recently awarded the BorgWarner 2015 Supplier Quality Excellence Award for 100% quality rating at the Monterrey plant.
Accepting the award on behalf of Rea Magnet Wire was Favio Peralta, Plant Quality Manager.
We'd like to thank BorgWarner for their continued business as well as all of the employees in Monterrey, who, through their hard work and dedication, were able to make this award happen.